Alumni Spotlight – Tyrell Vernon
June 24, 2022
CANUSA SPOTLIGHT – TYRELL VERNON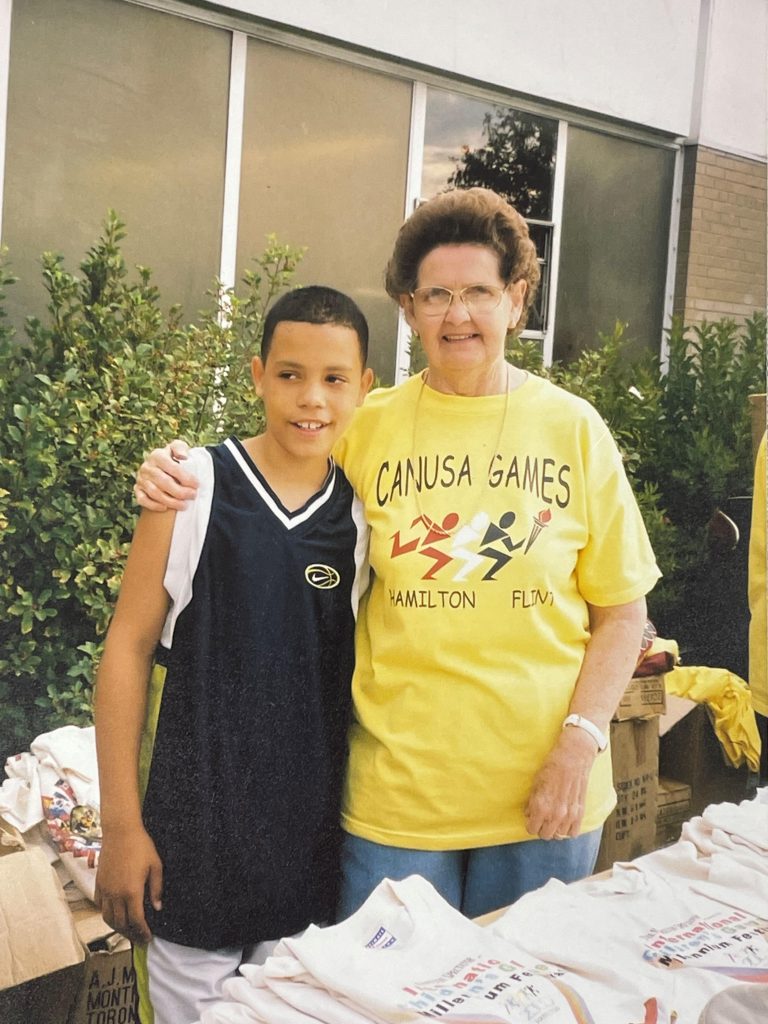 Tyrell Vernon has seen and done it all when it comes to the Canadian basketball scene.
---
The 33-year-old head basketball coach for the St. Francis Xavier X-Men has been in sole charge of the team for one full season now, and brings a wealth of experience from his playing days to the role.
One of the oldest and deepest basketball connections he has is to the CANUSA Games. Vernon competed at the young age of seven all the way up until he was sixteen, having been introduced by his grandmother Nancy Hewer, who has served in various roles for CANUSA throughout the years.
"She was the one that kind of introduced me to it, and it was kind of as a part of basketball growing up in Hamilton," said Vernon from during a virtual interview from his office. "Everyone knew that one weekend out of the year, you're either going to Flint, or they're coming to your house. And that was something that we would look forward to every year."
As for the competition?
"I remember winning more than losing," said Vernon.
At the time, it wasn't as common as it is today for young Canadian basketball players to trek to the States for tournaments and camps. Thus, CANUSA provided the budding basketball star a chance to expand his knowledge of the game beyond just back home.
"It helped me to adapt to different styles of games, and to not be afraid," said Vernon.
Vernon credits CANUSA as an influence in preparing him to play at the next level, which he did first at McMaster University and then with the X-Men, winning a U SPORTS bronze medal in 2012. Playing under legendary ST. FX head coach Steve Konchalski, the point guard had no inkiling at all that nearly a decade later he'd taking over the clipboard.
"I think as a basketball player, me growing up there. I didn't really give myself an option (to think about coaching)," said Vernon. "It was just play professionally, play professionally – and that's where my mind stayed."
And Vernon did pursue playing ball professionally, making the rounds on the Canadian pro and semi-pro circuits. He had a ten-game stint with the Mississauga Power of the National Basketball League of Canada (NBL), and later won the 2016 Nike Crown League as a player/coach for Team ACE (Vernon's teammates included former Raptors' first-round draft pick Bruno Coboclo and former University of Texas guard Myck Kabongo).
During this time, Vernon was pursuing a teaching degree which he successfully obtained – nudging him even more towards coaching. Still involved in the pro-am scene, Vernon also began working at the RISE Centre, a prep school in Brantford. Coaching the boys basketball team from 2016-2019, reaching the finals of the Ontario Scholastic Basketball Association (OSBA) in 2017, and winning it all in 2018 and 2019. He was also named coach of the year in 2019, which would end up being his final season at RISE. A familiar face came calling with an offer too good to pass up.
"The opportunity came up to come back to St. FX, which was a blessing," said Vernon. "(Being) with Coach K for two years, picking his brain, and then having the opportunity to be the head coach here now."
Vernon joined the X-Men and X-Women basketball programs as an associate coach in March 2019, absorbing knowledge and advice like a sponge before taking over for the X-Men this past season, in which he led his team to the AUS semi-finals. While many would consider being one of the top four teams in your conference a successful debut season, Vernon is not like many others. He's made a habit of winning, and wants his players to as well.
"If I'm not putting banners in our St. FX gym, then that means there's a lot more work to get done," said the coach. "And even if we do get a banner, there's still work to get done."
On the X-Men roster this season was David Muenkat, the 6-foot-7 forward who was recently selected first overall in the Canadian Elite Basketball League (CEBL) draft. With the development of the CEBL as the predominant Canadian pro summer league, the basketball scene has changed markedly since Vernon entered it
"I'm seeing it grow before my eyes, and not as someone who's a coach. I've played through it and then coached through it, and it's still changing," said Vernon.
"I think people are putting value to it. And understanding that, as a country, we have to be a little bit more self-sufficient."
Vernon thinks that there is a lens that some in the country look through where Canadian basketball is a lesser product than in the States. It's a perception that he has been fighting against since the first time he headed to Michigan, thinking along the way, "why do I need to come to Flint to lose?"