2021 Virtual CANUSA Games
July 12, 2021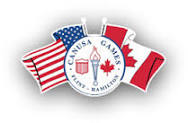 Update on status of 63rd CANUSA GAMES scheduled for August 6-8, 2021.
The CANUSA Games Organizing Committees from Hamilton and Flint, MI, wish to announce that due to travel restrictions, health department restrictions, other variables related to the COVID19 Pandemic, and an abundance of caution, the CANUSA Games will not take place in-person this year. Instead, the competition between Hamilton, ON and Flint, MI will be a modified virtual event!
The CANUSA Games is an annual, amateur sporting competition which began in 1958 between the communities of Greater Hamilton and Flint & Genesee County. The CANUSA Games motto, "Experience the Friendship" was written while keeping in mind the spirit of international goodwill and neighbourliness. That mandate continuing today.
The Games were cancelled during the summer of 2020 due to the CoVid19 pandemic. The CANUSA Games Families on both sides of the border are extremely grateful to all our courageous community members who have kept our communities healthy, safe, and functioning at their best throughout these unprecedented times.
The CANUSA Games organizing committees from Hamilton and Flint believe that a virtual event connecting the athletes from each community can safely occur this summer, and hopefully boost some morale. Scored competitions will take place in Bowling, Darts, Gymnastics, Skeet, Swimming, and Track & Field while Basketball and Hockey are organizing "friendly" skills competitions.
Matching up the athletes from both cities is an important part of the Games so various virtual activities will link the athletes from Hamilton and Flint while in the comfort of their own homes. The sports competitions will be shared on the CANUSA Games social media platforms and the results will be posted at www.canusagames.com (the Hamilton website).
"It was disappointing that we weren't able to host the CANUSA Games last year however it was an easy decision for us to make at the time – the safety of our participants and their families has to be our priority. With the virtual competition this year, we feel we can continue to uphold our motto of "Experience the Friendship" while keeping everyone safe… all with the hope of getting together in person again in the near future."
Greg Mills, (President, Hamilton Board of Directors)

For further detail please contact:
Sheila Drury Media Director: sheiladrury@gmail.com
or Greg Mills: canusapresident@gmail.com